For those of you who live in the United States and use Google as your search provider of web content, you may have noticed something different on the Google home page. Occasionally Google displays design variations or doodles of different company logos. Several hours ago, a different type of doodle showed up on the home page illustrating the word "Topeka." What is the significance of this doodle you may ask?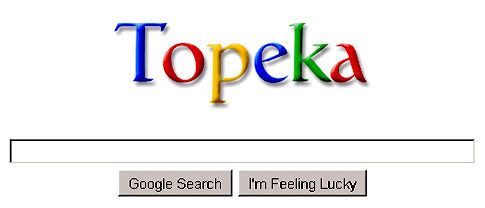 on March 2nd, CNN along with other news networks reported that the capital city of Kansas, known as Topeka, has changed its name to Google. It has been reported by various new networks that this move was made in part by Topeka government officials to request consideration for inclusion into Google's experimental fiber optics network project.
Google Chairman and Chief Executive Officer, Eric Schmidt issued a statement today by expressing his gratitude toward the city of Topeka for their honorable gesture. Eric announced that Google will return such generosity by changing their company name to "Topeka."
Such an announcement comes on the heels of April Fools day, and is being billed as one of the best April Fool's jokes of all time! There have been no reports on the decision whether or not to include Google Kansas as part of the experimental fiber optics network project.
What will Google think of Next?
You can follow any responses to this entry through the
RSS 2.0
feed.
You can
leave a response
, or
trackback
from your own site.
One Response to "April Fools: Google Changes Company Name"
Trackbacks/Pingbacks
Leave a Reply